I am an avid follower of the teachings of Abraham and the Law Of Attraction. I have been for years. However, despite a lot of listening of the various YouTube clips as well as seeing Abraham Hicks at a seminar on two different occasions, it has only really been recently that I am really beginning to 'get it'. This post will explore some law of attraction tips that I feel are the key points for any person who wants to live by this philosophy so as to feel more flow in their life and have more experiences that are wanted rather than unwanted.
What is the Law of Attraction?
The law of attraction (in a nutshell) teaches that what we focus on grows, whether that be negative or positive. So, if we want postive results, we need to spend more time thinking about what we want rather than the absence of what we want. The law of attraction was made popular by the movie The Secret. On the positive side, this movie introduced the masses to a potential new postive direction for their lives, but on the negative side, it missed some very big fundamental points around these old teachings. It was critisized as being too focused on materialistic things and alluded to not having to really 'show up' and do the work required to achieve the goals that people may have.
At the time when this movie came out in 2006, I was naturally captivated by it. I saw the original movie where Jerry and Esther Hicks featured in it (later removed from the final movie cut as the Hick's rightly felt the movie did not accuately promote the teachings of the law of attraction). My partner and I had just moved to outback Australia up north and we had watched the movie together. At the time we were concerned about having enough money due to me taking leave without pay from my job to accompany him on his new posting to his job (we were both in the Air Force at the time). We practiced some of what the movie promoted and got postive results in the financial sphere where opportunities fell into our laps that were very lucrative and that we could have never foreseen.  Was it pure luck? Or did we really 'bend reality' to get what we wanted (more money)?
Was it really the Law Of Attraction at work?
Well, looking back ten years later, I do feel it was the law of attraction at work, but, I also feel we had a bit of 'beginners luck' in this new way of thinking. A lot of water has gone under the bridge for me since I first 'discovered' these teachings, and as I look back now, I don't understand why I didn't 'get it'sooner rather later!
It has only been in the last year or so where I have probably listened to at least one YouTube clip from a range of channels per day and feel I have really begun to absorb this powerful message. The premise is simple: You have to feel good before you have the things you want, rather than waiting to feel good after they show up. It is in the 'waiting to feel good' that we unknowingly push things away that we actually want, because as the teachings of Abraham state, when we look at the conditions in our life and focus on these conditions and we feel bad as a result, we are unknowingly saying to the universe 'I'll have more of this please'.
It is counterintuitive on many levels, and initially a difficult concept to really embrace because we are so conditioned to look at what is going on in our life and the world and see problems rather than solutions. We are hard wired to see problems because that is part of our base survival instinct.
We are vibrational beings.
But the teachings of Abraham say we are a vibrational beings (and mainstream science agrees-we are made up of pure energy at our very core which vibrates at certain frequencies), and the way our vibration shows up in the world is through our emotions. When we are in a state of pure positive emotion we are much more in touch with out essential nature and who we really are. We are more in harmony with the laws of nature. For example, trees don't try to grow, they just grow. Grass does not try to push its way up from the dirt, it just comes up, easily, effortlessly. When we are in a state of positive emotion, our life flows better-we are more open to opportunities, we get more things done with less drag, our hearts are more open to others and we have more power to create our lives the way we want.
The trick with all of this however, is to get into the receptive state.
The receptive state is where we are not 'trying' to make things happen where we feel we have to exert a huge amount of energy and effort to get things off the ground or create the life we want. This DOES NOT mean we are not busy doing things, it simply means we are doing things from a positive state of emotion. At the end of a long day of work, we are not emotionally drained and feeling like we wish we were doing something else. We are feeling fulfilled and inspired to go back and do it again next time. We are acting in faith that what we are doing is going to work and we have positive expectations in a way that leaves us feeling light rather than bogged down in competition and worried about what others may think. We act from INSPIRATION, not MOTIVATION.
5 ways to get into the receptive state:
The suggestions belows are actually common sense, but they are so simple that we take it for granted. However, doing them consistenly gives your mind and body the best chance of feeling flow in your life and coming from a positive emotional state rather than a negative one. This leads to greater personal power.
Exercise daily
Eat healthy foods
Get enough sleep
But, if there is one thing to really get about the Law of Attraction and the teachings if Abraham it is this: spend 15 minutes in the morning meditating before you do anything else. During this meditation you are aiming to do nothing but be right in the present moment. It is in the present moment that our resistance and 'effort' stops and we surrender.
Each time we practice this meditation for 15 minutes it is like washing a dirty rag each day which represents our mind and it gets cleaner and cleaner and therefore so does our clarity about our life. This practice gives us a better chance of being in a 'higher state of vibration' (a more positive emotional state) so that we may go about our day from a more positive emotional set point. The meditation does not have to be anything fancy-it could be as simple as focusing on your breath going in and out and keep bringing you attention back to your breath every time your mind goes somewhere else (and it will).
There are many methods of meditation, but one way to learn very quickly which also embraces sound technology to aid your brain to get into a relaxed state more quickly is through this free online course. When you register for this free course you will get access to an app that will guide you in a way that is practical for you and does not make the process of meditation overly complicated. In fact, I have been using this simple method of meditation for years now, and I love it.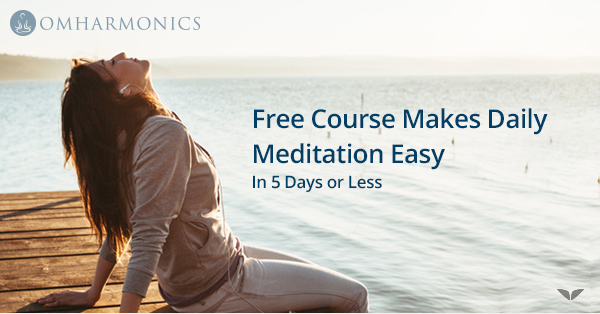 What are your thoughts on the Law Of Attraction? Do you think it is pseudoscience? Or do you think it has some validity? Feel free to comment below  and let me know!